Positive Dyslexia: Follow your star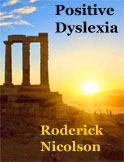 Positive Dyslexia is a movement that I started with Thomas West and Brock Eide in 2012. Its aim is to rectify the current emphasis on dyslexia as a disability by focusing on the strengths and the advantages of dyslexia. My book and iBook, Positive Dyslexia, provides the background to Positive Dyslexia while introducing the completely new idea of the 'ShowBook' - a book that can be read in the conventional way, or may be used as a 'Show' to present the concepts through speech and animated diagrams. I did it this way to be helpful to dyslexic users, but everyone finds it much more motivating. Click on the links below to download the free flyer or the free intro, or to purchase the standard book on the Amazon website.
On the right is the traditional book form. Available from Amazon and other good booksellers. Click on the thumbnail to go to the corresponding web page.

---

This is the free 'Six Minute Flyer' for the ShowBook. Clicking on the icon takes you to the Flyer information.The Flyer explains the background to the ShowBook concept, and how designing it for dyslexic users has transformed the accessibility for everyone.
The Overview (below) is also free, and explains the 7 Acts, from the Strengths of Dyslexia, the Cause of Dyslexia, the cause of Reading Disability, then how to thrive in School, Work and Society. I develop the strong position that Talent Diversity is the key concept for a society to succeed, and dyslexic employees are a major resource for Talent Diversity.

---